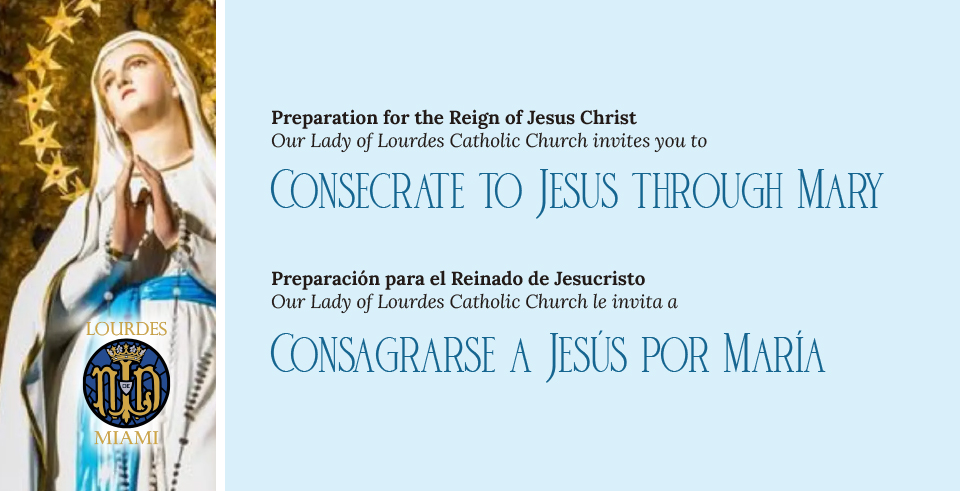 Meetings in person
English - Thursdays at the Expansion Room - 8pm to 9:30pm
October 5, 12, 19, 26 | November 2, 9, 16, 30
Spanish - Thursdays at St. Bernadette Hall - 8pm to 9:30pm
October 5, 12, 19, 26 | November 2, 9, 16, 30
Meetings via Zoom only
Children - Saturday - 2:30pm to 4pm
October 21 & November 11
Frances - 8pm
Thursdays
We will be following the spiritual method by St. Louis de Montfort in the book, True Devotion to the Blessed Virgin Mary.
Reuniones en persona
Ingles - Jueves en la Sala de Expansión - 8pm a 9:30pm
Octubre 5, 12, 19, 26 | Noviembre 2, 9, 16, 30
Español - Jueves en el Salón Sta. Bernardita - 8pm a 9:30pm
Octubre 5, 12, 19, 26 | Noviembre 2, 9, 16, 30
Reuniones solo a través de Zoom
Niños - 2:30pm a 4pm
Sábado, Octubre 21 & Noviembre 11
Frances - 8pm
Jueves
Seguiremos el método espiritual de San Louis de Montfort en el libro, Tratado de la Verdadera Devoción a la Santísima Virgen María.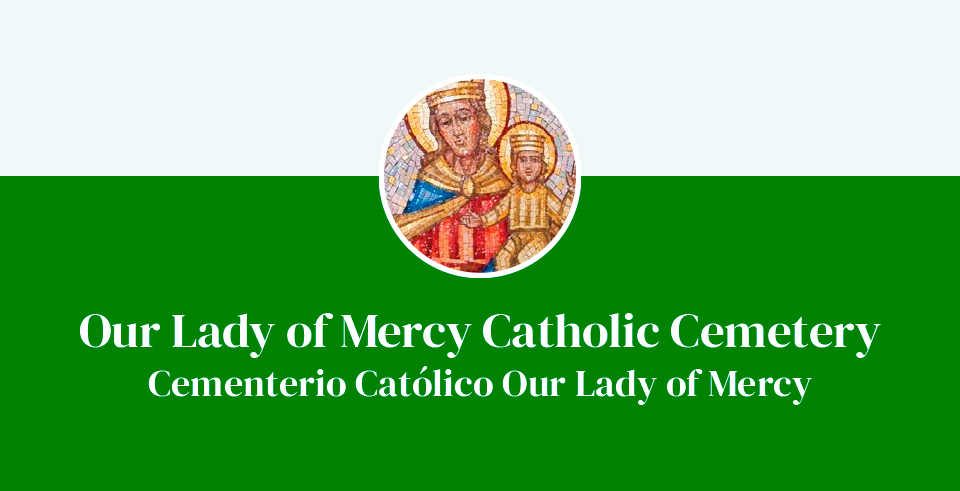 The seventh Corporal Work of Mercy teaches us to bury the deceased with dignity. The Church has consecrated our Catholic Cemeteries to ensure that we have the appropriate place to fulfill this teaching. We have invited representatives from Catholic Cemeteries Family Service program to visit our parish on September 30th and October 1st.
The Family Counselors will be outside each Mass. They have valuable information available to help you make your own decisions. We encourage you to take advantage of this opportunity to learn about advance planning in a Catholic Cemetery.
We invite you to visit Our Lady of Mercy Catholic Cemetery online at our website and view our new video.
For more information, and to learn about advance planning in a Catholic cemetery please call us: (305) 357-5750
www.catholiccemeteriesmiami.org
We encourage you to take advantage of this opportunity today.
La séptima obra corporal de misericordia nos enseña que nosotros estamos llamados a darle, con dignidad, santa sepultura a los que han fallecido. La Iglesia ha consagrado nuestros cementerios católicos para asegurar que nosotros tengamos el lugar apropiado para cumplir con esta enseñanza. Nosotros hemos invitado a los Consejeros Familiares del Cementerio Católico Our Lady of Mercy para que visiten nuestra parroquia el fin de semana del 30 de SEPTIEMBRE y 1 de OCTUBRE.
Los Consejeros Familiares estarán afuera de cada Misa. Ellos tienen información valiosa para ayudarles a tomar una decisión. Nosotros sugerimos que tomen esta oportunidad para preguntar e informarse más sobre la posibilidad de hacer Preparaciones con Anticipación.
Los invitamos a visitar el Cementerio Católico Our Lady of Mercy por medio del internet (de la red) al enlace y ver nuestro nuevo video.
Para más información sobre asuntos de pre-arreglos favor de llamar al: (305) 357-5750
www.catholiccemeteriesmiami.org
Aprovecha esta oportunidad hoy.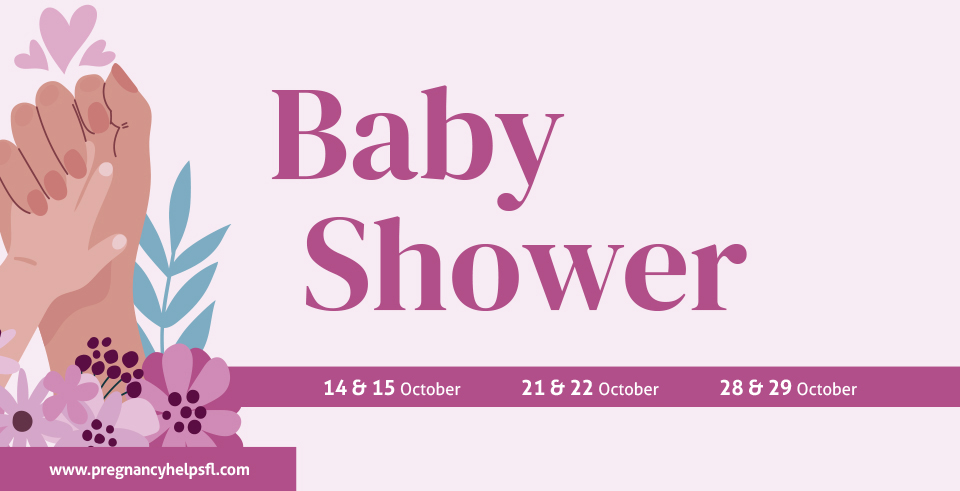 14 & 15 October | 21 & 22 October | 28 & 29 October
The Respect Life Ministry will be collecting new baby items at the main entrance of our church on the weekends
All items will be donated to the South Dade Pregnancy Help Center of the Archdiocese of Miami to benefit mothers in need.
Most needed items for boys and girls are:
New clothing, all sizes newborn to 24 mo.
New pijamas, shirts, onesies or cute outfits.
Baby diapers sizes Newborn to size 6.
New baby towels, receiving blankets, bibs.
Baby wash, Baby lotion, Diaper rash cream.
Bathtub, Diaper bag, Crib toy, Gift Card.
Infant Car Seat, Stroller, Crib and mattress.
Help mothers who have said YES to LIFE, receive the material assistance and spiritual support they need so that their babies may enjoy a marvellous beginning to their lives
El Ministerio Respeto a la Vida estará recibiendo artículos para bebés en la entrada principal de nuestra iglesia los próximos fines de semana
Todos los artículos serán donados al Centro de Ayuda a las Embarazadas del sur de Miami Dade, agencia de la Archidiócesis de Miami.
Los artículos más necesitados para niñas y niños son:
Ropa nueva de tallas desde recién nacidos a 24 meses.
Pajama, camisetas de una pieza, trajes o vestidos tallas 0 a 24 meses.
Pañales de las tallas de recién nacidos a talla 6.
Toallas para bebés, frazadas, baberos.
Jabón líquido para bebés, shampoo, crema.
Bañadera, Bolsa de Pañales, juguete de cuna, Tarjetas de regalo Tarjetas de regalos.
Ayudemos a las madres que han dicho Si a la Vida a recibir asistencia material y apoyo espiritual que tanto necesitan para que puedan disfrutar el comienzo de sus vidas.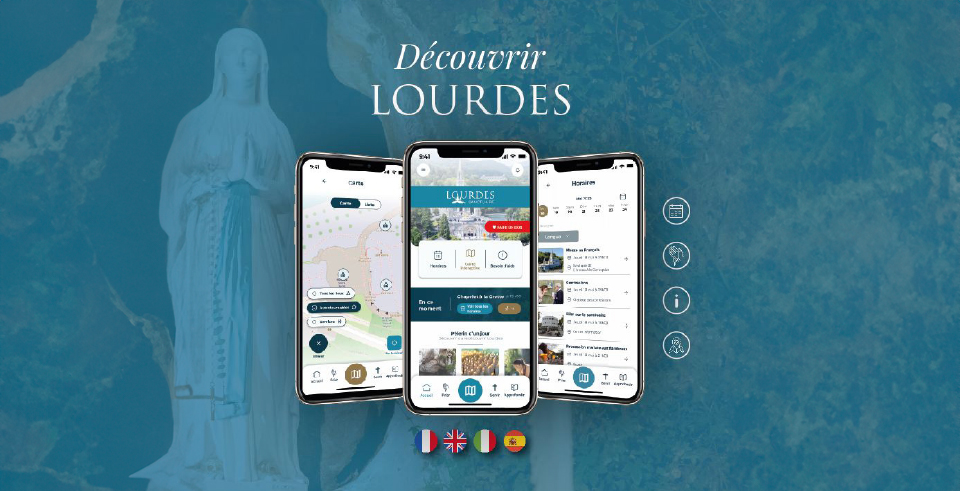 Get ready for your visit by downloading the Sanctuary's new App from the App store and Google Store!
Interactive map, real-time timetables, practical information... Practical and functional, the new app is available in 4 languages!
Download from the App Store | Download from Google Play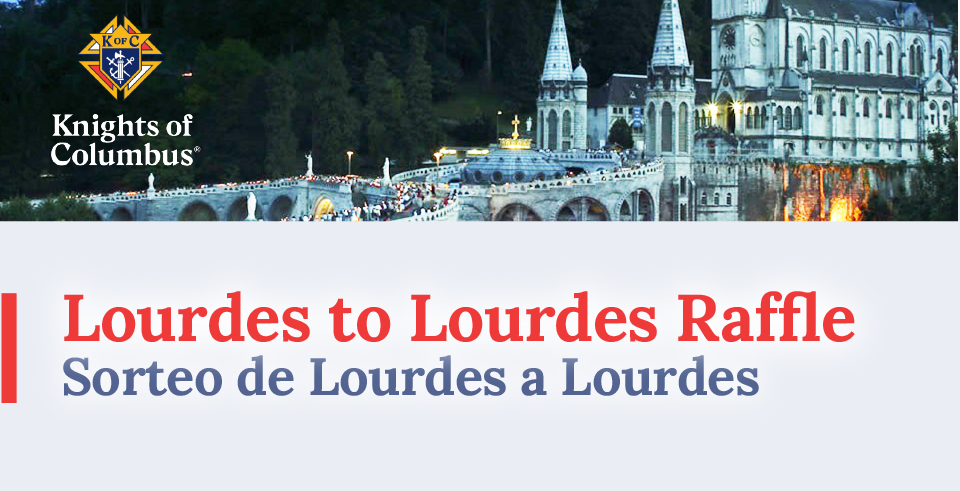 Father Andrew Pietraszko Memorial
Drawing is on May 9, 2024
Travel dates are Sept 20 - 30, 2024
$25 per ticket (save on multi ticket discounts)
En Memoria de Padre Andrew Pietraszko
Dia del sorteo es el 9 de Mayo de 2024
Dias de vieje son del 20 al 30 de Septiembre de 2024
$25 cada boleto (ahorre cuando compra mas de uno boleto)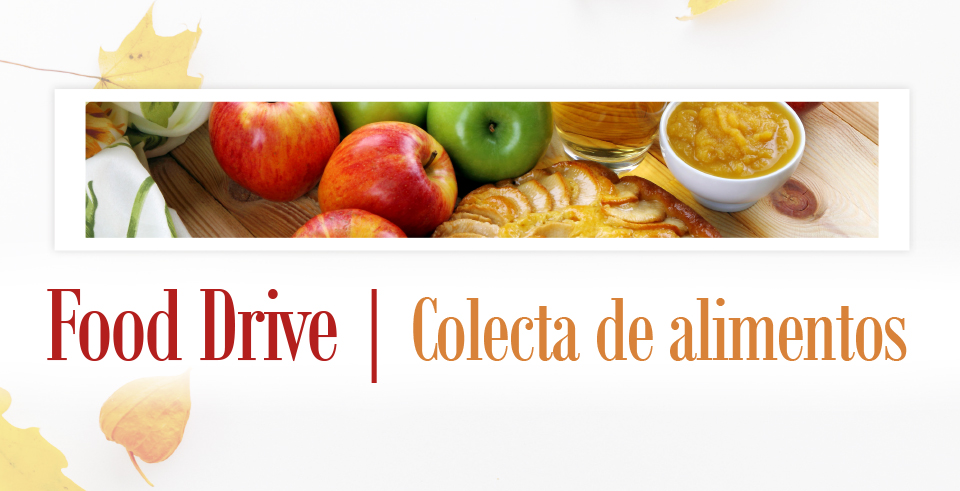 Saturday, September 30th, 2023 | 4:30pm - 6:00pm
Sunday, October 1st, | 9:00pm - 3:00pm
Drive-Through area in front of Parish office
$1.00 Envelope Donation
The Our Lady of Lourdes Parish St. Francis of Assisi Food Pantry will be hosting a food drive in preparation of taking care of our community this Thanksgiving season.
To facilitate the donation process we will set up a drive-through area by the parish office where our volunteers will receive the bags of non-perishable items bagged or boxed in your trunk so you do not have to get down from your car. Each year we are humbled by your generosity and support and cannot thank you enough on behalf of the families served.
Sabado, 30 de septiembre de 2023 | 10:00am - 2:00pm
Domingo, 1ro de octubre | 9:00am - 3:00pm
Zona en frente de la oficina de la parroquia
$1.00 Envelope Donación
La Despensa de Alimentos San Francisco de Asís de la parroquia de Nuestra Señora de Lourdes será la anfitriona de una colecta de alimentos en preparación para cuidar de nuestra comunidad en esta temporada de Acción de Gracias.
Para facilitar el proceso de donación vamos a establecer un área de manejo en frente de la oficina de la parroquia donde nuestros voluntarios recibirán las bolsas de artículos no perecederos embolsados o en cajas en su maletero para que no tenga que bajar de su coche. Cada año nos sentimos humildes por su generosidad y apoyo y no podemos agradecerles lo suficiente en nombre de las familias atendidas.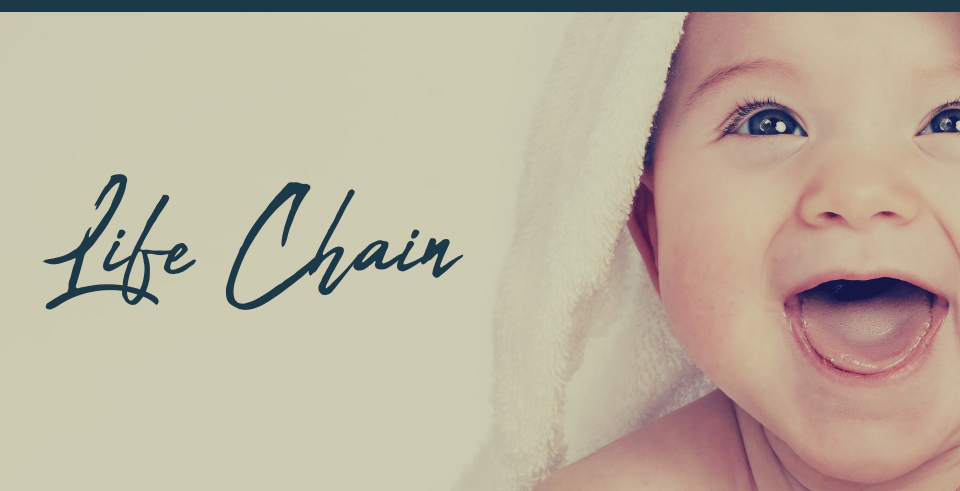 The Respect Life Ministry of Our Lady of Lourdes requests that you please join us on
Sunday - October 1, 2023 2:00pm - 3:00pm
U.S 1 and 73 Court.
Please come join us in prayer and be the voice of the unborn! Our parish's location is, as always, on US 1 between the 61st Ave. and the 73rd Court. We will meet at the 73rd Ct. corner at 1:45pm to distribute the signs.
El Ministerio de Respeto a la Vida de Nuestra Señora de Lourdes les pide nos acompañen el
Sunday - October 1, 2023 2:00pm - 3:00pm
U.S 1 entre la73 Court.
¡Por favor únase a nosotros en oración y seamos la voz de los no nacidos! Nuestra parroquia estará, como todos los años, en la US 1 entre la 61 Ave. y la 73 Court. Nos reuniremos en la esquina de la 73 Corta a la 1:45 pm para distribuir los letreros.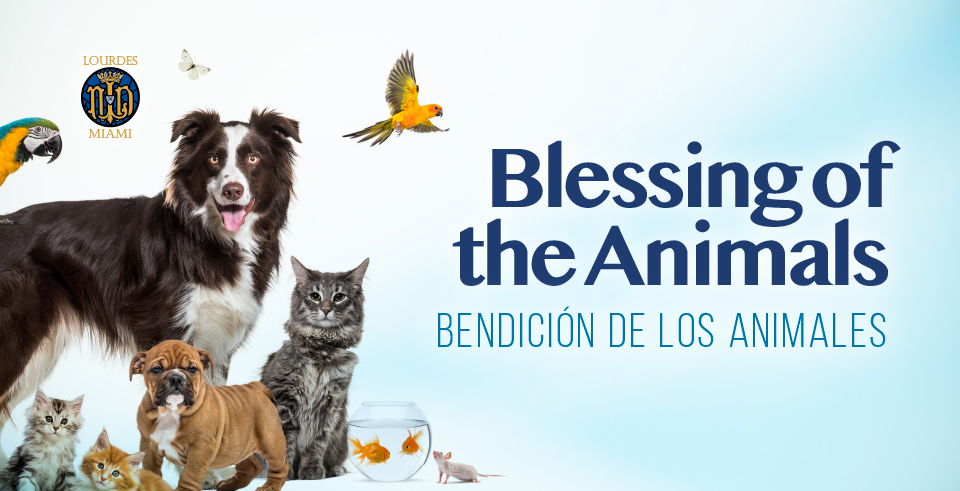 Wednesday, October 4th
6:00pm | Outdoor Altar
We invite you to bring your beloved pet(s) to receive a special blessing on the Feast of St. Francis of Assisi.
Miércoles, 4 de octubrE
6:00pm | Altar al aire libre
We invite you to bring your beloved pet(s) to receive a special blessing on the Feast of St. Francis of Assisi.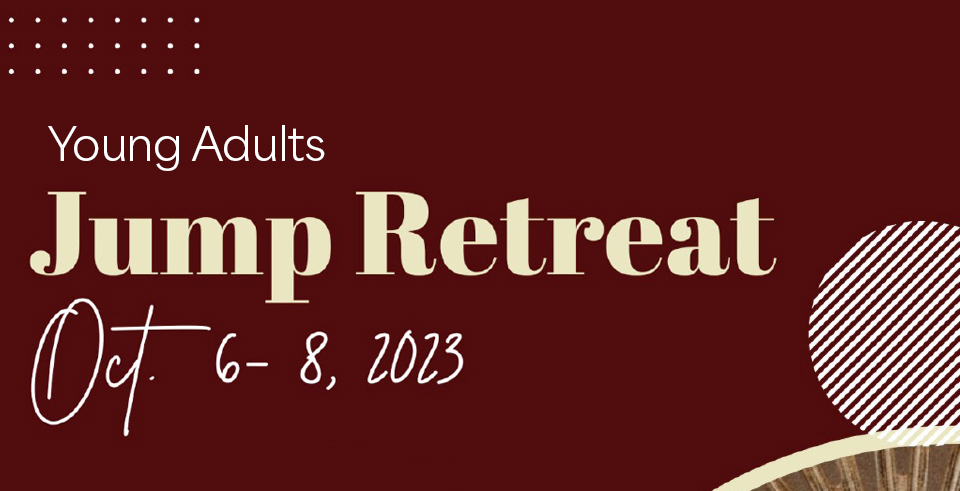 October 6-8, 2023
Information:
Archbishop Coleman Caroll
October 6-8, 2023
For ages 18-35
Saturday, October 14th at 9:00am | Main Church
Sung Traditional Latin Mass celebrated every 2nd Saturday of the month.
Sábado, 14 de octubre a las 9:00am | Iglesia Principal
Misa Tradicional cantada en latín, celebrada todos los segundos sábados.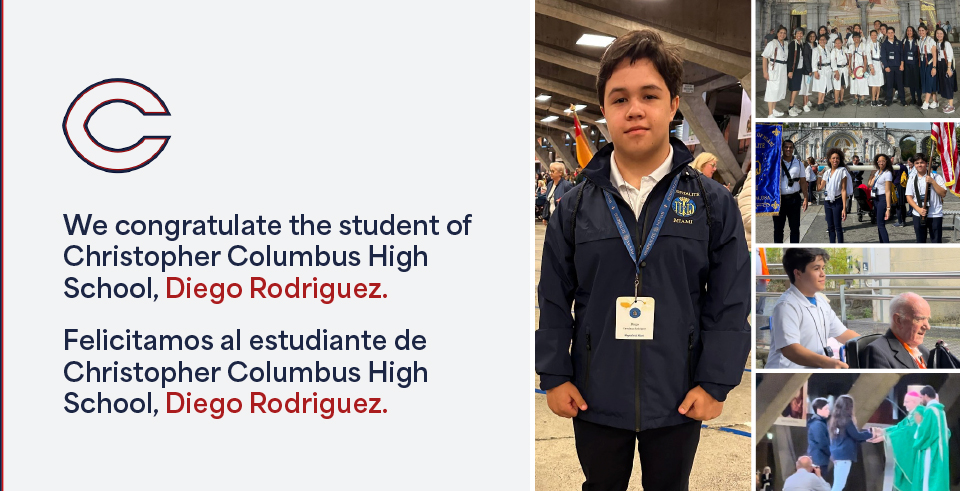 For completing his year of service at the Sanctuary Our Lady of Lourdes with the Hospitalité de Miami, Archdiocese of Miami. His dedication and impact on the community are truly commendable.
Por completar su año de servicio en el Santuario Nuestra Señora de Lourdes con la Hospitalité de Miami, Arquidiócesis de Miami. Su dedicación e impacto en la comunidad son verdaderamente encomiables.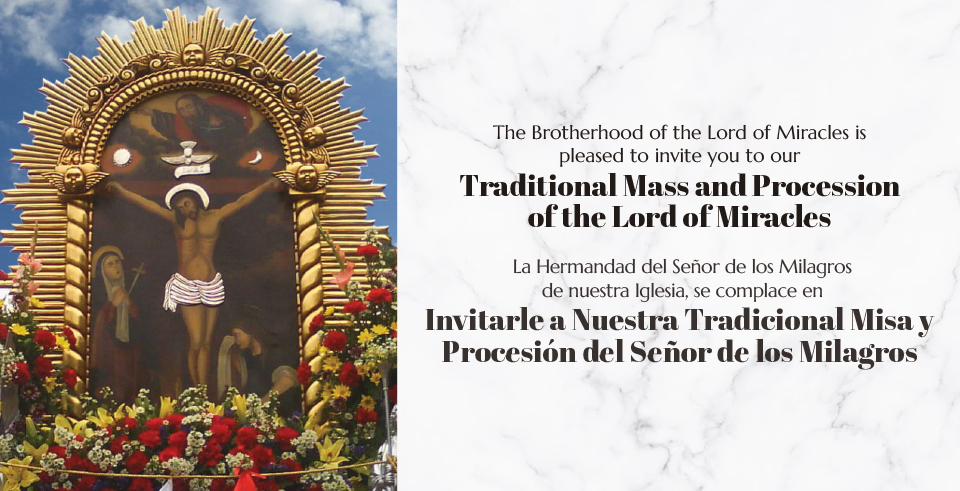 Sunday, October 8, 2023 at 01:30pm | our Church
We will be accompanied by the Consul of Peru and by representatives of Peruvians Organizations.
As well as Brotherhoods of The Lord of Miracles from others Miami Churches. Also, we will appreciate the attendance of all the Ministries that build up our parish Family.
Domingo 8 de octubre del 2023 a la 01:30pm | Nuestra Iglesia.
Vamos a estar acompañados por el Cónsul del Perú y por Representantes de Organizaciones Peruanas en Miami.
También asistirán Hermandades del Señor de los Milagros de otras Iglesias y tendremos la Asistencia de todos los Ministerios de Nuestra Familia Parroquial.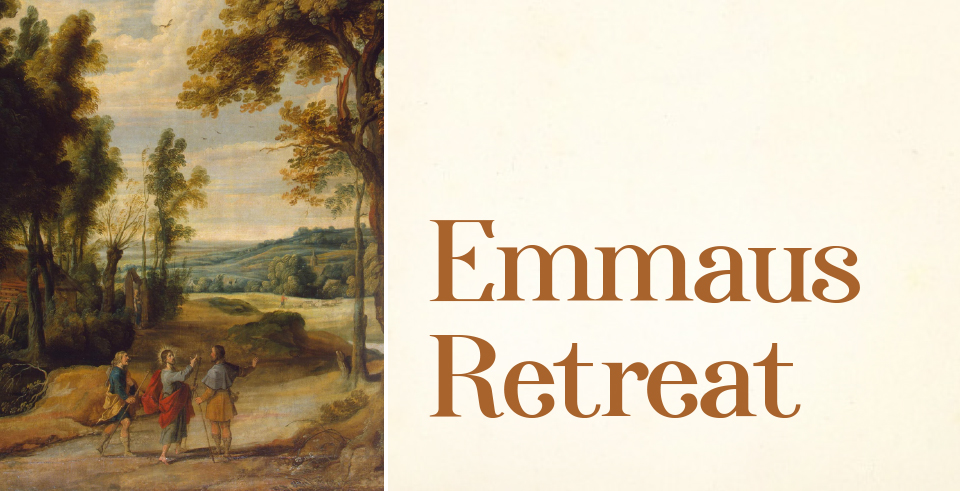 October 13 - 15 , 2023 | Our Lady of Lourdes Parish
For Women in English #64
"Come journey with me ... down the road to Emmaus"
When was the last time you gave yourself a gift that will last forever? The Women's Emmaus Retreat is the one stop shop for finding such a gift. Renew and revitalize your relationship with God.
Come and experience a personal encounter with Jesus!
For more information contact:
Bertha Uribasterra: (305) 608-4723 | [email protected]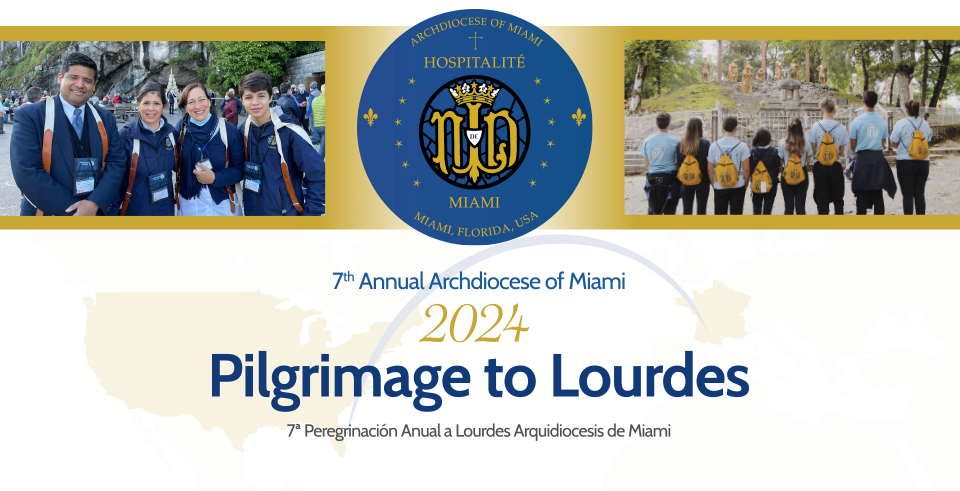 June 21st to July 1st 2024
September 20th to September 30th 2024
Make your reservation / Haga su reservación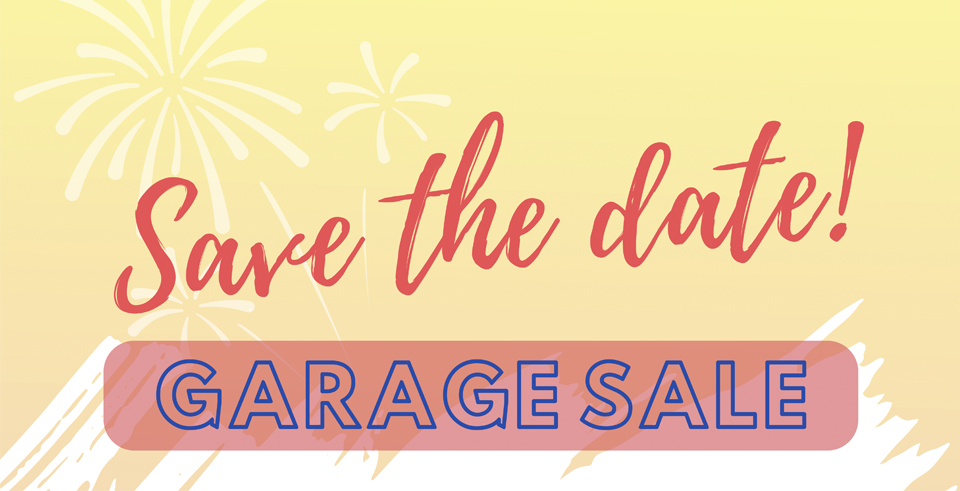 Saturday, October 21, 2023 | Our Lady of Lourdes Church
Set-Up: 6:30am - 7:30am
Sale Hours: 7:30am - 1:00pm

$30/space and $55 for two spaces
Contact:
(305) 281-8744 | [email protected]
Buy! Sell! Save!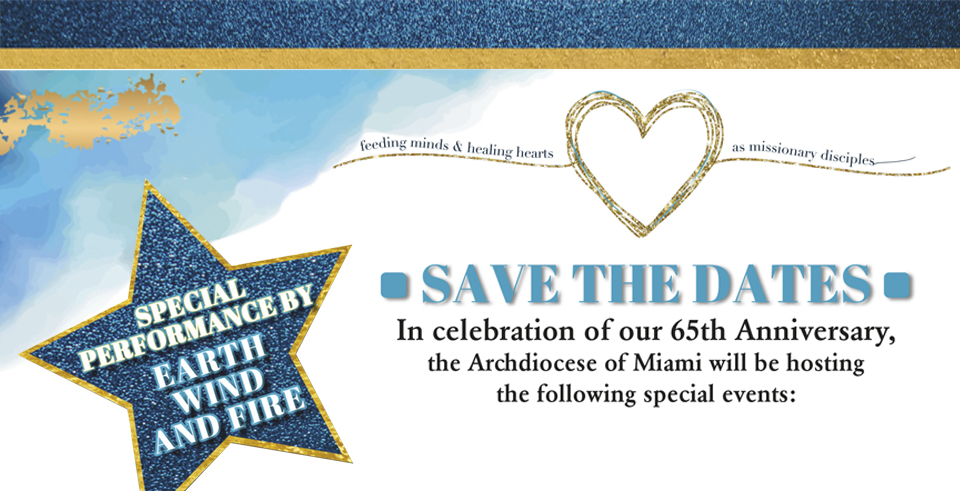 October 7, 2023 at 5:30 PM | Cathedral of St. Mary
65th Anniversary Mass
Presided by Most Reverend Thomas G. Wenski 7525 NW Second Avenue - Miami, FL 33150
The Mass will be followed by a Cocktail Reception Information on how to RSVP for this event will be sent at a later date.
Saturday, November 11, 2023 at 6:30 PM | Miami Beach Convention Center
Special Concert Performance by the legendary musical group
Earth Wind & Fire
For information on sponsorship opportunitties and tickets, please visit: www.adomdevelopment.org/65gala or contact (305) 762-1051 or [email protected]